Girls World Expo Event!
Saturday, September 22nd at the Grand Sierra Resort's Nevada Room, 12 noon – 4 p.m.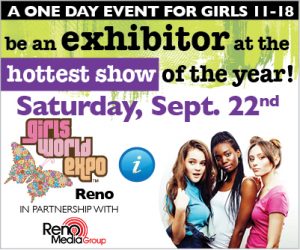 Girls World Expo is a day-long event created by local teen girls for local teen girls – Reno Media Group and the Girls World Expo producers are working with our local Girls Advisory Board that is made up of teens from here in Reno who are creating a unique show for local teens girls and your families! The day will be filled with seminars, performances, demonstrations and vendors that serve the needs in the Reno/Sparks and surrounding areas!
Girls World Expo can change your life – come together with your friends, or make new ones at the Expo, to enjoy a magical day where you will hear from and meet successful and powerful women right from our own community who can show you a path to success! You will attend workshops, listen to speakers, see demonstrations, science exhibits, and speak one-on-one with women who are leaders in business, government, industry, the arts, and many other realms of endeavor. It's a rare opportunity for you to see what your future could be, and learn what it will take to get there.
But it's not all work! Girls World Expo is also fun. There's fashion, an art show, music and dance performances by talented local artists, and the always-popular GWE Marketplace, where you can see and purchase everything from hair accessories to self-help materials, and clothing to jewelry.
It's not just another day. It's a very special day. It's an opportunity to spend a day in a safe, secure environment inspired by the company of other girls and not just seeing but creating the future. Your future.
Click Here to register for the event and get your FREE tickets now!
Meet some of Reno's fiercest females.
Seminars:
Dream BIG 12:45 – 1:30
Hillary Schieve
Mayor, City of Reno

Traci Davis
Superintendent, Washoe County School District
Spark Your Leadership 2:15 – 3:00

A creative approach to self-development that addresses personal and collective challenges, in order to discover the power of choice and determination within each individual. Using movement and music each participant is guided towards discovering the tools that will help us grow as capable, confident and secure individuals.
What we're working on for this year's Expo:
Girls of Merit Award Ceremony
College & Career Info
Live Music & Dance Performances
Gallery of Local Art
Shop our Marketplace
Healthy Living
Hot Topic Seminars & Workshops
"Bright Ideas" STEM Showcase
MUCH, MUCH MORE!
If you are a local business looking to be a part of this amazing day, Click Here for more information and to receive Sponsor and Vendor Opportunities.